GABRIEL FIGUEROA
PHOTOGRAPHY
Fine Art Limited Edition Prints
GABRIEL FIGUEROA was born in 1907 in Mexico City. With more than 50 awards and 200 films, Figueroa has most definitely secured a place among the great cinematographers of the 20th century. Figueroa incorporated the history, inhabitants and landscape of Mexico as the driving force behind his artistic succession of images; from his first film "Allc´ en el Rancho Grande/ There in the Great Ranch" in 1936 with director Fernando de Fuentes to "Under the Volcano" in 1985 with director John Huston. During his six decades of professional activity, Figueroa was recognized internationally with a Golden Globe in 1945 for "La Perla/ The Pearl", and in Cannes in 1960 for "Macario"; in 1995 he received the international award from the American Society of Cinematographers; in 1998, "El Gabi", a lifetime achievement award for the Los Angeles International Film Festival was named after Gabriel Figueroa in his honor. Figueroa passed away in Mexico City in 1997.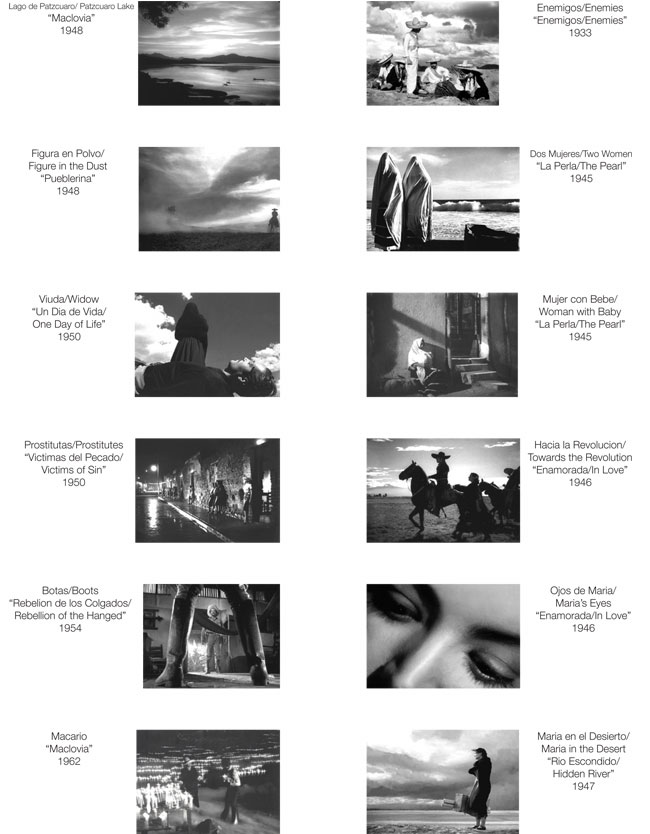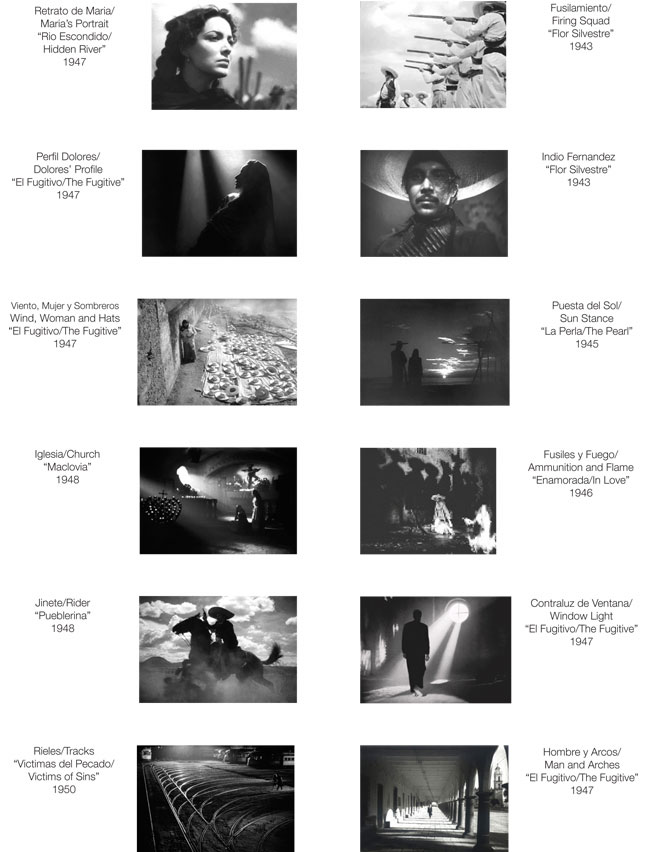 Limited Edition of 50 prints per image & size.
Each edition is signed, numbered and registered for authenticity.

Available Sizes:
Paper size 13" x 17" = $950.00
Paper size 18" x 22" = $1,250.00
Paper size 20" x 24" = $1,500.00
Paper size 24" x 36" = $1,800.00
Box set 5 1/2" x 6 1/2" 10 images per box $500.00
Paper: Wells River
Ink: Carbon Pigment 200-yr archival
To order:
Each print is individually printed on a per order basis.
Delivery is based on photograph image availability. Maximum delivery date is 14 to 30 days
The Gabriel Figueroa Collection

Gabriel Figueroa was also known for the meticulous detail he applied to his work. The collection consists of photographic images taken from original 35mm light test strips; filmstrips that were used to select the correct printing light of a scene in a film.

There are 20,000 strips in the archive, of which 1000 were examined and selected by Figueroa himself. Of those 1000 images, 300 were digitally restored over a 5-year period. The decision to digitalize the images was made taking into account artistry, preservation and archival consideration. Digitalizing the images was considered the most stable way to preserve the nitrate-based images and the process, which would give the most faithful renditions of the original images. Today, these images are better preserved than the films themselves. Figueroa's son, master printer Gabriel Figueroa Flores, has worked for 15 years preserving, digitalizing and printing these images. He has further selected 350 images to add to the original selection made by his father.

All the work has been carefully chosen to demonstrate the most important creative and artistic work of Figueroa Sr. All are impeccable examples of how the master cinematographer used lighting, composition and chiaroscuro in both landscape and portraits.